Alexander Manuiloff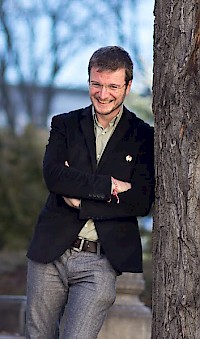 Alexander Manuiloff is an award-winning Bulgarian writer, whose plays and dramaturgy works have been staged in Bulgaria, Prague, Berlin and the USA.
Scriptwriter of several films that toured many international festivals. An artist featured by the German-French TV ARTE.
Selected as one of the few foreign scholarshipholders of Germany's theatre festival Theatertreffen 2014, Alexander is the first Bulgarian writer to be ever presented at Berlin's top theatre forum the following year. Part of the exchange programme of the Drama League, New York, 2012. Receiver of the Bulgarian Writers' Guild Award for the best fiction debut book of the year (for "Film", 2004). Scholarshipholder of the Charles University, Prague, 1999, and the American foundation TFAS, 2005.
His books have been published in Bulgaria, Germany and the USA, and his journalistic writing has also received official accolade by the Association of European Journalists. 
Back