Delyana Maneva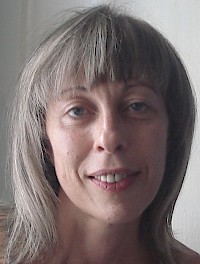 PhD – Theatre and Movie Studies – New Bulgarian University, MA – Principal of Theatrical Research, BA – Acting and Theatre Directing 
Author of the book "The Challenged Body – Psychophysical Actor's Training".
Delyana Maneva worked as an artist in National Film Center Boyana; assistant-director in Bulgarian National Television. Since 2000 she is working as a lecturer in New Bulgarian University.
As a theatre director she put on stage the performances:
The Bombs within my Head by M. Frain/ T. S. Eliot
Chain Dance by Werner Shwab
Child Murder by Peter Turini
Waking up the spring by F. Vedekind
The Hothouse by Harold Pinter
Thunder Parts by Daniel Harms
City of Glass by Paul Auster
The Ghost Sonata by A. Strindberg
Victoria Station by Harold Pinter
Delyana Maneva published poetry, short stories and articles in the press. In 2004 she received National Drama Award Ivan Radoev (co-operation with Alek Popov). Her debut in script-writing (co-writer with A. Popov and D. Mitovsky) is Mission London, 2010. The film became the most frequented Bulgarian movie for the last 20 years. It won the Unbribable Award of Transparency International Croatia's program "Culture against Corruption" in 2011. At the moment she is working on the projects The Black Box – director D. Mitovsky and The Kingdom of Chamla – director A. Kossev.
Back