Alexandra Genova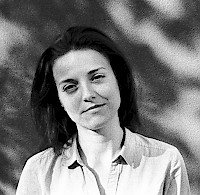 Alexandra is born in 1987 in the city of Sofia. In 2011 she graduates from NATFA 'Kr. Sarafov', Bachelor 'Dramaturgy'.
Creative Biography
2015 - 'Bevy', historical feature drama, scriptwriter. Development stage.
2014 – Co-Founder of WannaBe Prodution, a scriptwriting company
2013 – "Starmachine", TV Reality show, scriptwriter
2012 – 1st place – Best Bulgarian Short Movie, Early Bird, International Student Festival
2012- 'Doodle', August 2012, Cannes Film Festival, Audience award at the Short Film Selection
2012 – "The Trip", feature adventure movie, development stage 
2011 – "Project Happiness", script for a feature film, scriptwriter
2011 – "Valentina Tereshkova in the land of miracles", project for a feature documentary movie, producer Kostadin Bonev
2010 – Four Corners Workshop, sponsored by the European cultural programme Media, scriptwriter
2009 – "Silly Women", short movie, 12min., scriptwriter                  
2006 – 1st place in the national contest for dramaturgy organized by NATFA and the Peace Corps with the theatre play 'Origin', staged at NATFA. 
Back