Stanslav Semerdjiev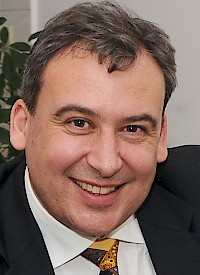 Prof. Dr. Stanislav Semerdjiev is Executive Director of the International Association of Film and TV Schools (CILECT, www.cilect.org) since 2011.  
Currently he is also President of the Bulgarian Association of Film, TV and Radio Scriptwriters (BAFTRS, www.baftrs.com, since 2006) and Treasurer of the Federation of Screenwriters in Europe (FSE, www.scenaristes.org, since 2008).
He was Rector of the National Academy for Theatre and Film Arts – Sofia, Bulgaria (NATFA, www.natfa.bg, 2003-2011) and founded the undergraduate, graduate and doctoral Screenwriting Programs at NATFA (1991).
He created the first Bulgarian daily TV serial Hotel Bulgaria (2004, Nova TV) and his documentary film The Hamlet Adventure (2008, http://www.imdb.com/title/tt1302562/combined) has been acclaimed at festival, university and diplomatic corps screenings in Belgium, Israel, Norway, UK and USA.
He is also the script-editor or writer of more than 50 Bulgarian and European film/TV projects and executive producer of a number of short films. He has published and/or presented over 150 texts on the audiovisual media, including the monography A Short History of the World Screenwriting, vol.1: USA (1994). He has served on a number of film/TV festival juries, conference panels, public councils and educational/scientific committees.
Back